Be Prepared for the CCNA Exam!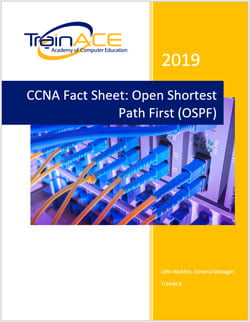 Download this handy Cisco OSPF Fact Sheet as a study aid to help you memorize key terms and commands you'll need to know when you take the CCNA exams.
Learn about:
Sta

ndard ACL's and Extended ACL's

Numbered ACL's and Named ACL's

Wild Card Masks

Basic Configuration Commands

Rules for Applying Lists

Support Commands
Standardized by the IETF (Internet Engineering Task Force) OSPF is used primarily in large corporate and enterprise networks. Providing scalability, efficient use of network bandwidth, and fast convergence, Cisco OSPF is a link-state routing protocol.
Get Yo
ur CCNA Open Shortest Path First Fact Sheet Now >>>>